Helpful Hints
GENERAL SAFETY: For your own safety and to ensure that the Festival production and artist performances are not interrupted, PLEASE DO NOT CLIMB OR SIT ON THE STAGE, THE MIXER PLATFORM LOCATED IN THE CROWD AREA, OR THE SPEAKER PLATFORM LOCATED IN THE CROWD AREA. PLEASE OBEY IMMEDIATELY any request from security or stage personnel to move away from such equipment.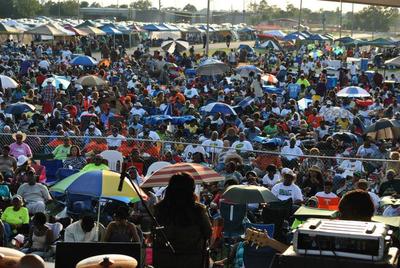 SECURITY: We hire private security for this event. All security staff are empowered to remove from the site any individual who endangers the safety of others or whose actions may constitute a nuisance. There will be local law enforcement officers on or near the site, and arrests can and will be made for disorderly conduct, public drunkenness, use of controlled substances or any other crime. Any criminal or disorderly behavior should be reported to a member of our security team. Security officers can always be found near the main stage area and the entrance to the site at the ticket booths.
MEDICAL EMERGENCIES: We will have an emergency medical technician on duty for the event. Any medical emergency should be reported immediately to Festival staff or security personnel.
CHILDREN: Each year we are delighted to see a younger generation being exposed to the Blues. We also remind you that the world looks very different when you are only two or three free tall and are in a crowd of twenty or thirty thousand people. Please watch out for the children among us, especially after dark. Don't let them wander off without supervision. Be sure that they have plenty of water and nourishment during the day. Let's be sure that the Mississippi Delta Blues & Heritage Festival will be a pleasant memory for all concerned.
INSECT BITES AND STINGS: We are in an open field which for most of the year is overgrown with weeds. Accordingly, there will be ant colonies, including fire ants, on the site. For those unfamiliar with fire ants, they build mounds with the dirt that is excavated from the nest or colony. These mounds are usually very noticeable. Be very careful when spreading blankets and placing chairs. Be especially watchful if you have small children with you. If you or any member of your party should be allergic to insect bites or stings, make sure that another member of your party is aware of this fact. Contact our emergency medical personnel if needed. After dark, there is also a problem with mosquitoes, and a strong insect repellent is recommended.
NOISE: We are trying to be sure that, even if everyone can't see the stage, they can hear the music. Consequently, sound levels near the main stage are loud enough to cause some people some discomfort. There is also a speaker platform about 150 feet from the stage in the infield crowd area to further reinforce the sound, and sound levels are also very loud near this speaker platform. If the sound levels are uncomfortable, try moving to one side or the other parallel to the stage, and you may find pockets where the sound is not as loud. Your only other options are to move back or bring along and wear ear plugs (as all stage hands do).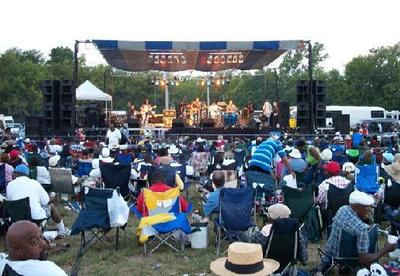 TOILETS: There are two groups of portable toilets on the site. One is at the north entrance fence and the other is at the east fence line, just behind the small mound at the east side of the infield area.
WATER: We are in an open field for over twelve hours. Even when we are blessed with a relatively cool or cloudy day the most needed commodity by day's end is drinking water (or ice). There are no public drinking fountains on the site. The vendor booths located along the west and south perimeters of the infield area have running water in each booth. Those in charge of this water may or may not share with the public. Be advised that they are not being charged for the use of the water by the gallon, but that they do not pay fees for the use of the booth and may charge you for a drink of water.
STAGE ANNOUNCEMENTS: We do not make stage announcements as a general rule. If you get lost, locked out or your car, or have some other problems, locate a security officer or Festival Staff Member and explain your problem. Usually it can be resolved without formal stage announcements.
THE BOTTOM LINE: When it's all said and done, we will be among the ten largest cities in the State of Mississippi on this third Saturday in September. Our greatest asset is that we all love the Blues, and that we should be able to enjoy this event as neighbors and, hopefully, as friends. Work with your neighbors. Look out for each other. Be helpful and courteous to all concerned. We thank you all for coming, and for making each Mississippi Delta Blues & Heritage Festival the best ever.